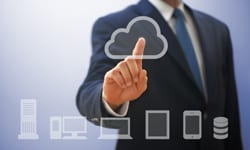 Businesses are looking to realize productivity gains by expanding their remote access programs to all employees, business partners, buyers, distributors and customers. Our managed Cloud SSL VPN services take the burden of supporting the increasing number of users and applications, and the growing variety of non-corporate controlled devices, off the shoulders of IT security administrators. This service reduces system complexity and provides a secure and cost-effective solution for security administrators to meet the increased demand for mobile remote access without increasing their budgets.
Is it time to explore your options?
Cloud based computing services are becoming more secure and affordable. Kates Technology can find the options that benefit you and provide professional integration and support. With secure Cloud based computing there's no software to install or maintain on any user's computer. The only requirement for users is Internet access through a standard browser. With a corporate username and password, your employees will have full access to any resource on the corporate LAN with granular policy-based access controls.
Kates Technology works closely with major providers to provide and support industry specific software. We can help you get the most out of your accounting, scheduling,document management and communications packages by helping interface with your software providers – no matter what industry you are in.
Financial & Insurance
Mortgage Brokers
Financial Planners
CPA Firms
Tax Preparers
Banking Institutions and Credit Unions
Insurance Agencies
Professional Services
Construction
General Contractors
Architectural and Engineering
Law Offices
Billing & Collection Agencies
Commerce
Retail Stores / Point of Sale
Manufacturing and Distribution
Marketing & Media
Real Estate
Property Management
Education & Staffing
Medical / HIPAA
Medical Billing Services
Medical Offices
Business Administration
Hospitals and Clinics
Private Practice